Our technologies are designed to reduce the risk of E&P plans. Capital expenditure is reduced by concentrating the efforts of other geophysical methods only on the areas with the highest hydrocarbon potential. Our technologies have far fewer limitations than conventional seismic in frontier areas such as sub-salt, sub-basalt and complex geology like intense faulting and stratigraphic traps.
Our technologies and services can be deployed at a fraction of the cost of conventional seismic. This is possible due to our small but versatile group of experts and low logistics costs. In addition, they can be applied simultaneously in the field, thus producing economies of scale and delivering multi G&G data.Nevertheless, our technologies are complementary to conventional 2D/3D seismic.
Our technologies can be applied in remote areas such as forests, arctic and deserts. Field acquisition has minimum requirements, in terms of mobilization and demobilization, and can be accomplished with a very limited number of operators. Acquisition grids can be easily adjusted at short notice, thus offering to the client flexibility during data acquisition.
Our technologies can be effectively applied everywhere, as they have no environmental impact and comply with HSE regulations. They do not require explosion and are suitable for protected areas such as reserves and urban locations.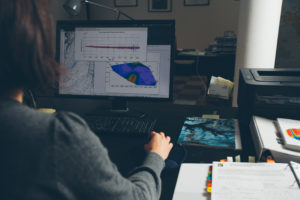 Throughout years of R&D, Geodynamics WorldWide has deployed various types of seismometers for best results. Currently, GWW uses 3-dimensional low frequency (120s – 100 Hz) broadband seismometers, with integrated recorder and designated GPS receiver.
Our standard survey flee consists of 20 seismometers and their field accessories. The standard shipment is 27 boxes, for a total weight of 550 kg, shipped with standard international courier (DHL, TNT, UPS, etc.) via air or via ocean, overall a very practical solution in terms of time and cost to reach even the most remote destinations. Almost as a standard parcel door-to-door delivery.